About Us
"We are a Kingdom minded church that believe Jesus Christ is still on the move in the lives of His people. We strive to be the Church that advances Gods Kingdom on earth. We Love people from all tribes, tongues and nations. Our Vision: We aspire to be a Loving, Teaching, Reaching Church that loves on the people in our city and makes a Kingdom inpact in the community around us".
Vision and Purpose:
Our roots can be traced back to the sixteenth chapter of Matthew where Jesus established His church. We have continued to be a spirit-filled church, that reaches out into our community, reaching the lost, and teaching and discipling the saved to go back out into God Harvest field, preaching the Gospel of Jesus Christ.
History and Heritage:
A BRIEF HISTORY OF THE CHURCH OF GOD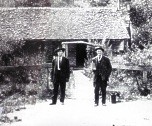 The Church of God began on August 19, 1886, in Monroe County, Tennessee, near the North Carolina border. Former Baptist Richard Green Spurling preached in a millhouse along Barney Creek and eight persons formed a Christian Union for the purpose of following the New Testament as their rule for faith and practice, giving each other equal rights and privilege to interpret Scripture, and sitting together as the church of God. Twenty-one years later the growing movement formally adopted the name Church of God.
Ten years after the organizational meeting, a revival at the Shearer Schoolhouse in nearby Camp Creek, North Carolina, introduced the doctrine of sanctification to the community. Opposition to this doctrine led to severe persecution, but a spirit of revival prevailed and the Holiness believers experienced an outpouring of the Holy Spirit that included speaking in tongues and divine healing. Such experiences prepared the way for the explosion of the Pentecostal movement in the early twentieth century.
Under the leadership of our first General Overseer, A. J. Tomlinson, the Church of God adopted a centralized form of Church government with an inclusive International General Assembly (1906), launched a world evangelization effort beginning in the Bahamas (1909), inaugurated the Church of God Evangel (1910), and established educational opportunities for ministers and members (1918). Today Church of God ministries include more than 7 million members in 178 nations and territories. Some 36,000 congregations serve around the world, while regional and international ministries provide resources and support through our divisions of World Evangelization, Care, Discipleship, Education, and Support Services.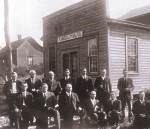 For further information on the history of the Church God, see Living the Word: 125 Years of Church of God Ministry and Like A Mighty Army, both of which are available through Pathway Bookstore. Additional historical resources are at the Dixon Pentecostal Research Center.